Dodgers-Braves NLDS preview: Who has the edge?
The Dodgers and Braves are set to do battle in a five-game series which begins Thursday. Let's break it down.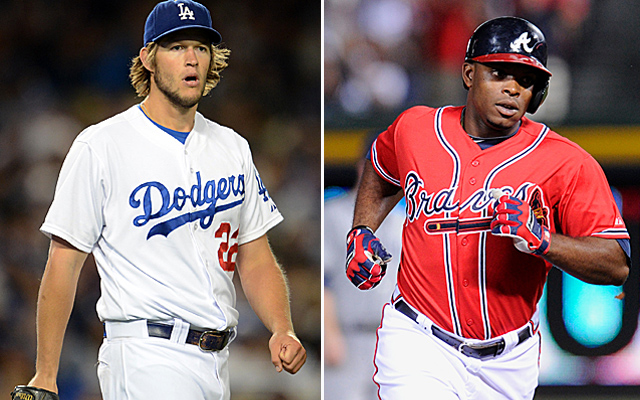 More: Staff predictions | Start times through Game 2 | Umpire assignments
Though it's only the divisional round, we're set to see a true battle of the titans in the Atlanta Braves - Los Angeles Dodgers National League Divisional Series. Game 1 is Thursday.
My first prediction is this ends up being the most exciting, dramatic, best, etc. divisional round series. We're talking about a team that won 96 games against a team that went 62-28 (.689, a 162-game pace of 112-50) after waking up from an early-season slumber. The Braves have home-field advantage, which is paramount considering they went 56-25 at home and 40-41 on the road this season. The Dodgers were impressive on the road this season, though, going 45-36.
Both teams relatively limped to the finish line, with the Braves going 13-14 in September while the Dodgers went 12-15.
Catcher: A.J. Ellis vs. Brian McCann

McCann is far superior with the lumber (115 OPS+ to 93) and provides good power to the Braves' lineup. Ellis, though, is a great backstop who threw out 44 percent of would-be basestealers this season, compared to 24 percent by McCann. That brings things closer, but McCann is still the pick here.
First base: Adrian Gonzalez vs. Freddie Freeman

Gonzalez is a very good player, obviously. He hit .293/.342/.461 with 22 homers, 100 RBI and quality glove work at first base this season for the Dodgers. Freeman, though, is rounding into an MVP-caliber player. He boasted a 144 OPS+ and 5.4 WAR this season, both a decent upgrade over Gonzalez's marks (126 and 3.9).
Second base: Mark Ellis vs. Elliot Johnson


Ellis isn't flashy by any stretch, but his .270/.323/.351 line with steady defense are enough to not hurt the team. Johnson is pretty similar once joining the Braves. And just be keeping Dan Uggla out of the lineup he's helpful. It's an unexciting push.
Shortstop: Hanley Ramirez vs. Andrelton Simmons

Simmons is the best defensive shortstop in baseball. In fact, according to several advanced metrics, Simmons had a historically great season with the glove, setting a record for defensive runs saved in a season, for example. Ramirez, though, sported an MVP-caliber bat when healthy, hitting .345/.402/.638 (for a whopping 190 OPS+) with 20 homers and 57 RBI in just 86 games.
Third base: Juan Uribe vs. Chris Johnson

Johnson wins out on the rate stats, with a rather healthy advantage in batting average. The power is similar, though, and it's interesting to note that both versions of WAR heavily favor Uribe due to high defensive rating. With that in mind, we're at a draw.
Left field: Carl Crawford vs. Justin Upton

Crawford still isn't what he was with the Rays, but he's not bad at all. He has some speed and provides good range in left. Crawford boasts advantages with defensive range, on the basepaths and in batting average. Just about everything else is Upton, though, and he has a significant advantage in power from a corner outfield slot. That moves the needle a ton for me in a short series.
Center field: Skip Schumaker vs. Melvin Upton

The injuries to Matt Kemp and Andre Ethier definitely sting the Dodgers here. A healthy Kemp would be a significant advantage. Instead, the Dodgers are left with either Schumaker here or Puig in center with someone like Scott Van Slyke in right. Just for the sake of simplicity, we'll plug in Schumaker here. While he's not awful, he is a backup and has no business starting for a playoff team. Upton is coming off an unmitigated disaster of a season at the plate, but he has value on defense. Plus, we've seen Upton hit at a decent-to-good level before. The potential tilts the scales.
Also of note, it's possible the Braves use Evan Gattis in left, pushing Heyward to center and Justin Upton to right. For the purposes of being able to easily break this thing down, though, we'll leave it like this.
Right field: Yasiel Puig vs. Jason Heyward

This is fun. Puig's numbers on the season dwarf Heyward's. For example, the triple slash lines:
Puig: .319/.391/.534
Heyward: .254/.349/.427
Of course, Heyward has hit .322/.403/.551 since moving to the leadoff spot. He's only hit there for 30 games, so it's a small sample, but we also know the immense talent Heyward possesses. He's also an outstanding defender. Puig has stumbled to the finish line with a poor September, but, like Heyward, we know the immense talent he possesses. We'll call it an incredibly talented push.
Bench

Andre Ethier might be available for pinch-hitting duty. Michael Young is also a very capable backup for the Dodgers. The Braves have punch off the bench in the mighty Evan Gattis . Otherwise it's a mix of unexciting role players and backups for each side.
Starting rotation: Clayton Kershaw , Zack Greinke , Hyun-jin Ryu and Ricky Nolasco vs. Kris Medlen , Mike Minor , Julio Teheran and either Paul Maholm or Freddy Garcia

Lots of virtual ink will be spilled in the coming days about the Dodgers having a big advantage in this series due to their menacing rotation. The Braves trio on top, however, in Medlen, Minor and Teheran, has plenty of potential to shut down opposing lineups in a short series. They should not be discounted.
On the other hand, Kershaw is the best pitcher on the planet and Greinke would serve as the Braves' ace. Ryu and Nolasco are capable of good outings, too. I didn't want to go to significant advantage because I felt like it would discount the work Medlen, Minor and Teheran are capable of doing, but there's a definite separation here.
Bullpen: Kenley Jansen , Brian Wilson , Ronald Belisario , Paco Rodriguez et al vs. Craig Kimbrel , Luis Avilan , Jordan Walden , David Carpenter et al

Kimbrel and the most dominant bullpen in the NL will get all the attention here -- and deservedly so. In fact, this category feels similar to the rotations, only with the roles reversed. Kimbrel is the best reliever on the planet while the setup men for the Braves have been stellar all year. Jansen, however, is an outstanding closer with a strikeout rate rivaling Kimbrel's (it's 13.2 K/9 for Kimbrel, 13.0 for Jansen). With Brian Wilson back and looking like the old Beard, it's possible the Dodgers have a pair of lockdown closers at the end of the game. Also, the Dodgers as a whole don't have very good numbers for relievers, but that's mostly due to an awful start to the season. Things have settled since (4.03 bullpen ERA in first half, 2.76 in second). It's not like we'll be seeing Brandon League in a big spot, either. So, like with the starters, I'm bringing the needle back toward the middle.
The Braves are definitely better and there's a separation, but it's not as significant as a superficial look at season-long stats would indicate.
Defense

The Braves have the best shortstop in baseball and a very good right fielder. B.J. Upton is center is solid, too, just as Freeman is at first. Otherwise they aren't overly impressive. The Dodgers are great behind the plate and very good in several spots. According to defensive runs saved, the Dodgers were fifth in baseball at 47 and the Braves were sixth with 45. Fangraphs Ultimate Zone Rating has the Dodgers ninth and Braves 11th. Fangraphs defensive WAR shows the Dodgers fifth and Braves 22nd, though. On the flip side, we have to ding the Dodgers a bit for having to use Schumaker in center.
Prediction
I'm going with the Dodgers getting at least two of the three Kershaw/Greinke starts in the series -- if not all three -- and winning the series in five games. Now, this is where all the Braves fans scream about no respect and "everyone counting them out." By no means is that even remotely correct. The Braves have a great shot at winning the series and aren't being counted out. It's just a pick -- and not an overly confident one. I actually feel like this series is a toss-up, and in that case, Kershaw going twice in a short series was ultimately my deciding factor.