NBA Training Camp: Eastern Conference camp battles
Over the next few days, every training camp in the NBA will be in full swing and we look at the potential training camp battles in the Eastern Conference.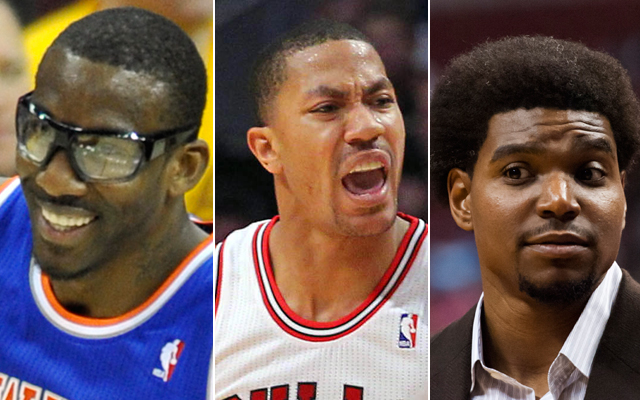 With training camp starting up this weekend for some teams and into next week for the other teams, it's time to start looking at which players will be fighting for spots not just on the roster but in rotations around the league. We take a look at the Eastern Conference teams and what possible training camp position battles we may find this preseason.
For the Western Conference camp battles, click here.
Atlanta Hawks
Key Additions:  Paul Millsap , Elton Brand , DeMarre Carroll , Gustavo Ayon , Dennis Schroeder, Pero Antic , Jared Cunningham
Key Subtractions:  Josh Smith , Devin Harris , Zaza Pachulia , Anthony Tolliver , DeShawn Stevenson, Dahntay Jones, Ivan Johnson, Johan Petro
Position battle 1: DeMarre Carroll vs. John Jenkins
With Lou Williams ' return for the season opener still very much unknown, there could be a wing position open in the rotation early on. You can probably bank on DeMarre Carroll and Kyle Korver starting on the wings to flank Jeff Teague but the shooting stroke of John Jenkins could steal a lot of minutes from Carroll and move Korver to the small forward position.
Position battle 2: Gustavo Ayon vs. Elton Brand
Both of these pickups seemed like steals for a Hawks team that was finally able to move on from the Josh Smith era. Brand is likely to be the first big man off the bench in most situations but Ayon has been so effective most of the time he's on the floor that he could pair nicely with any of the Hawks' big men.
Position battle 3: Shelvin Mack vs. Jared Cunningham
Jeff Teague is the starter and Dennis Schroeder is pretty much guaranteed to be the backup point guard. The third string option is a winnable role for both Mack and Cunningham, but Cunningham hasn't had a chance to show he's capable of running an offense. 
What to expect from this team... 
It would be great for this team to really explore what they can do with the Paul Millsap- Al Horford two-man game during training camp and the preseason. We know these guys will be heavy options for the offense and the reason they're going to spread the floor with shooters, but getting them to work together and develop a chemistry is the thing they should be working on early and often.
Charlotte Hornets
Key Additions:  Al Jefferson , Cody Zeller , Anthony Tolliver, Jannero Pargo
Key Subtractions:  Byron Mullens , Tyrus Thomas, Reggie Williams , DeSagana Diop
Position battle 1: Cody Zeller vs. Bismack Biyombo
With Al Jefferson as the centerpiece in this lineup, the Bobcats will have a decision to make with the power forward position. Do you put in Cody Zeller to add offensive balance to Jefferson and help them maintain an up-tempo style of play or do you go with Bismack Biyombo to complement Al with defense but cut down on offensive weapons?
Position battle 2: Jeffrey Taylor vs. Ben Gordon
Ben Gordon is the veteran here and he's a better scoring option than what Taylor has shown so far after one year in the league. But Taylor's ability to defend, play off the ball, and spot-up from 3-point land could be a much more attractive option next to Kemba Walker and Michael Kidd-Gilchrist . 
Position battle 3: Anthony Tolliver vs. Josh McRoberts
Much like the Zeller-Biyombo decision of how they'll attack opposing teams, Tolliver and McRoberts give the Bobcats a much different look. McRoberts is a much more athletic option around the rim and on the boards, while Tolliver gives them a better defender and 3-point shooter as a backup big man.
What to expect from this team... 
You're just looking for progress with this team and how they might fit into what Steve Clifton would like them to do out there. Is Al Jefferson a good enough scorer in the post to open up opportunities for other players? Is Kemba Walker finding a balance between being a scorer and a playmaker? Does Michael Kidd-Gilchrist look more comfortable with the ball? 
Miami Heat
Key Additions:  Greg Oden , Michael Beasley
Key Subtractions:  Mike Miller
Position battle 1: James Jones vs. Rashard Lewis
With Mike Miller amnestied from the team, someone has to step into his role of being another guy that can spread the floor. James Jones is a capable shooter that won't give you much in the way of the rebounding that Miller gave this team. Rashard Lewis looks to be a pet project for Erik Spoelstra and is a better option if he's healthy.
Position battle 2: Greg Oden vs. himself
This is the most intriguing part of the Heat's training camp and preseason. They get to see if Oden can continue working his way back to the court to revive a once promising career. How will he look in individual workouts and team drills if he can participate?
Position battle 3: Michael Beasley vs. hungry unproven players
There are going to be players dying to make a roster in the NBA, especially when it comes to the back-to-back champs' roster. Is Michael Beasley going to be as hungry to revive his career as these guys will be to begin theirs or are we going to see the same old Beas?
What to expect from this team... 
We'll probably get a lot of questions about Dwyane Wade 's little Twitter feud with Kevin Durant , questions about LeBron James ' potential free agency in 2014, questions about how good Mario Chalmers thinks he is, and thoughts on whether or not this team can win a third straight title. Most importantly, we need to see how Wade responds to a summer of treatment. 
Orlando Magic
Key Additions: Victor Oladipo, Jason Maxiell , Ronnie Price
Key Subtractions:  Al Harrington , Beno Udrih , DeQuan Jones
Position battle 1: Victor Oladipo vs. Arron Afflalo
Afflalo is a great option at shooting guard in this league when he's knocking down jumpers and playing solid defense. However, Oladipo is a big part of the future after being selected second in the draft and will want a jump-start on his future position. 
Position battle 2: Glen Davis vs. Jason Maxiell
There are a lot of frontcourt options for the Magic this coming season and finding minutes for both Glen Davis and Jason Maxiell could be a little tough. Davis should see a lot of time at the 4 with Maxiell getting time at the backup 5, but there are only so many minutes for a rotation that's potentially five-deep for the interior.
Position battle 3: Tobias Harris vs. Andrew Nicholson vs. Maurice Harkless
Speaking of battling forwards, you're going to see this young trio trying to earn minutes as well. Tobias Harris has apparently bulked up to 240 lbs., making him a bruising combo forward. Andrew Nicholson is a great option off the bench at the 4 and Maurice Harkless will try to wrestle some minutes at the 3 from Harris.
What to expect from this team... 
There is a lot of promise on this team. Nikola Vucevic had a fantastic second season and they have a lot of young forwards looking to round out this core and rotation. Throw in the excitement people seem to have for Oladipo and there's a lot of promise heading into training camp. The only thing you absolutely should expect though is the eventual buyout of Hedo Turkoglu because they really want to send him packing.
Washington Wizards
Key Additions:  Otto Porter , Al Harrington, Eric Maynor , Glen Rice, Jr.
Key Subtractions:  Leandro Barbosa , A.J. Price , Jason Collins , Cartier Martin
Position battle 1: Otto Porter vs. Trevor Ariza
This isn't the most exciting training camp battle you'll ever see but the Ariza-Porter thing should be decent. Ariza is the defensive-minded veteran looking to stay in the starting lineup of a team that defended excellently last season. Porter is the third pick in the draft looking use his all-around skill set to add some offense. 
Position battle 2: Trevor Booker vs. Kevin Seraphin
With Emeka Okafor out indefinitely with his neck injury, Booker and Seraphin have the chance to earn a lot of minutes. Using Nene as the anchor inside, you can comfortably use either Booker or Seraphin and still have plenty of flexibility with how you use Nene on offense.
Position battle 3: Al Harrington vs. Jan Vesely
Who wants to be the backup stretch-4 for this team while Okafor is out? Al Harrington isn't in great shape but he has the shooting prowess to make the defense respect him. Jan Vesely is... well... he's an active body that could finish at the rim. 
What to expect from this team... 
The combination of John Wall and Bradley Beal in the backcourt is what will fuel this offense on a nightly basis. Expect to see Wall exploring how to be a more effective scorer and leader while letting Beal use more of the ball on offense to be a creator when coming off screens. Mostly, this team just needs to find a way to remain healthy. 
Chicago Bulls
Key Additions: Derrick Rose,  Mike Dunleavy , Tony Snell , Erik Murphy
Key Subtractions:  Nate Robinson , Marco Belinelli , Richard Hamilton , Malcolm Thomas
Position battle 1: Marquis Teague vs. Kirk Hinrich
The battle for the backup point guard could be interesting this season. Teague showed out in his summer league stint in Las Vegas and would provide a little bit of a boost for this Bulls team. But the steady hand of Kirk Hinrich may appeal more to Tom Thibodeau if Teague isn't defending.
Position battle 2: Tony Snell vs. Kirk Hinrich
That's not the only place we might see Hinrich though. As the fourth or fifth guard in the rotation, you can still hopefully see a lot of minutes for this Bulls team if Thibodeau realizes he can't run Derrick Rose into the ground. If Snell is a good enough playmaker, we might not see a lot of small ball with Rose and Hinrich or Teague and Hinrich.
Position battle 3: Derrick Rose vs. rust
After missing real life game action for the past 18 months, we just don't know if Rose will be his regular explosive self right out of the gate or if he'll have to work harder to get the timing back on so many of the things he does well. It will most likely be the top story of Bulls' camp.
What to expect from this team... 
Everything is pointed at Rose. The entire makeup of the team has been geared around him and for the team to truly contend like they intend, he has to be healthy and back to MVP form. What you can expect is a lot of analysis and knee-jerk reactions from every little step he makes and every story that comes out of camp about how he looks.
Cleveland Cavaliers
Key Additions: Andrew Bynum, Anthony Bennett, Jarrett Jack , Earl Clark , Sergey Karasev, Carrick Felix
Key Subtractions:  Marreese Speights , Shaun Livingston , Wayne Ellington , Omri Casspi , Daniel Gibson, Luke Walton, Chris Quinn, Kevin Jones, Luke Harangody, Kelenna Azubuike, Jeremy Pargo, Samardo Samuels
Position battle 1: Andrew Bynum vs. himself
You can't really trust anything with Andrew Bynum and his progress after last season. It doesn't mean he won't play for the Cavaliers this year but you just can't feel good about the possibilities of him returning to the court until it actually happens. 
Position battle 2: Anthony Bennett vs. Tristan Thompson
Tristan Thompson will certainly have a much better shot at getting heavy minutes this coming season than Anthony Bennett, but the No. 1 pick in the draft will have plenty of chances to take some of those minutes away from Thompson. The key for both will be the health of Bynum and how much he plays.
Position battle 3: Earl Clark vs. Alonzo Gee vs. Sergey Karasev
The small forward position is pretty intriguing for the Cavs. Earl Clark had a decent year with the Lakers and earned himself a $9 million deal. Alonzo Gee is the incumbent and was one of their top defensive players last season. Sergey Karasev is the wild card who could either save the world with his shooting (as advertised) or just come along slowly.
What to expect from this team... 
The playoff talk surrounding this team shouldn't be ignored. They have a real shot at finding a rhythm early on in the season and taking advantage of a tanking mentality with the lower end of the East. But the health of Kyrie Irving , Andrew Bynum, and Anderson Varejao will dictate the legitimacy of that talk. If Irving and one of the bigs are healthy this season, there's no reason to think they can't compete.
Detroit Pistons
Key Additions: Josh Smith, Brandon Jennings , Luigi Datome , Kentavious Caldwell-Pope,  Chauncey Billups , Josh Harrelson, Tony Mitchell, Peyton Siva
Key Subtractions:  Jose Calderon , Brandon Knight , Jason Maxiell, Slava Kravstov, Khris Middleton , Corey Maggette
Position battle 1: Andre Drummond vs. the free throw line
After shooting 37.1 percent from the free throw line his rookie season, Drummond refused the idea of trying an underhand approach. He'll try to fix his charity stripe form, but really this could be much more mental than anything.
Position battle 2: Kyle Singler vs. Luigi Datome
Jonas Jerebko should be in the mix for the backup small forward position (if they go big with Andre Drummond, Greg Monroe , and Josh Smith), but the real fight for the position will likely be between Singler and Datome. Who will do a better job of stretching the floor and making plays?
Position battle 3: Kentavious Caldwell-Pope vs. Rodney Stuckey
Rodney Stuckey is certainly the favorite to win the starting shooting guard position for these Pistons, but his time with the team seems to be ending over the next year. KCP has a shot to supplant him as the starting shooting early and make Stuckey and his expiring contract trade bait.
What to expect from this team... 
Lobs. Lobs. Lobs. We get to see Brandon Jennings running a team with real scoring options all around the floor. Is he going to be more of a traditional point guard than the guy that was jacking up bad shots his first four years or will he be impatient on the court and take the scoring responsibility himself? Regardless of his decision, we'll see a lot of big men finishing at the rim and putting together highlight reels.
Indiana Pacers
Key Additions:  Luis Scola , C.J. Watson , Chris Copeland , Donald Sloan , Solomon Hill
Key Subtractions:  Tyler Hansbrough , D.J. Augustin , Jeff Ayres , Gerald Green , Miles Plumlee , Ben Hansbrough , Sam Young
Position battle 1: Solomon Hill vs. Chris Copeland
The backup small forward seems very winnable for bother Chris Copeland and rookie Solomon Hill, unless Danny Granger takes a step back and comes off the bench. Then you'll see a bit of a logjam in the rotation. Hill has an all-around game but this team could use Copeland's ability to shoot from three.
Position battle 2: Chris Copeland vs. Ian Mahinmi
These two guys don't play the same position but the effectiveness of both on the court could end up dictating the different lineups Frank Vogel tries out. Would he go smaller with Copeland as the 4 and try to spread the court for his offense that struggled so much last season? Or will he continue to go big with Mahinmi as the backup center and play bully ball?
Position battle 3: Paul George vs. expectations
A five-year, $90 million contract extension for the All NBA Third Teamer brings a lot of responsibility for the Indiana Pacers' star wing. People will expect him to put up performances that begin to rival LeBron James and Kevin Durant while trumping Carmelo Anthony . Whether that's fair or not, he'll have to handle these expectations from here on out.
What to expect from this team... 
You're going to get a lot of serious talk from this Pacers team and all of it will center around them considering themselves title contenders this year. After challenging the Heat in the East semis in 2012 and taking them to seven games in the 2013 Eastern Conference Finals, the Pacers are looking to keep climbing up the mountain. That may all hinge on just how much Danny Granger can give them this season.
Milwaukee Bucks
Key Additions:  O.J. Mayo , Brandon Knight, Carlos Delfino , Zaza Pachulia, Gary Neal , Giannis Antetokounmpo , Nate Wolters, Caron Butler , Luke Ridnour , Khris Middleton
Key Subtractions: Brandon Jennings, Monta Ellis , Samuel Dalembert , Mike Dunleavy, Luc Richard Mbah a Moute , J.J. Redick , Drew Gooden, Gustavo Ayon, Marquis Daniels, Joel Pryzbilla
Position battle 1: Ekpe Udoh vs. Zaza Pachulia
The Bucks committed a good chunk of money to Zaza Pachulia this season and he should be penciled in as the backup center behind Larry Sanders . However, Ekpe Udoh's impact on the game is well-documented since his days with the Warriors and could have a bigger defensive impact.
Position battle 2: Ersan Ilyasova vs. John Henson
Ilyasova and Henson will be competing for the starting power forward position and bring very different skills to the court. Ilyasova will give the Bucks offensive rebounding and 3-point shooting if he wins the job. Henson will give the Bucks wide-ranging defense and scoring around the basket.
Position battle 3: Giannis Antetokounmpo vs. Carlos Delfino
Carlos Delfino seems like the logical choice to backup Caron Butler at the small forward position because he's kind of a pest on the court and you can use his jumper. But the intriguing prospect of Antetokounmpo using his wingspan defensively could prove to be too much if he's competent on offense.
What to expect from this team... 
We're going to see a little bit of awkwardness as the Bucks try to implement an entirely new backcourt. Brandon Knight and O.J. Mayo will have to learn how to play together while not ignoring their deep frontcourt as they try to put a competent offense together. Larry Sanders and John Henson could be defensive monsters on the court together, but there are a lot of minutes and combinations to go around.
Boston Celtics
Key Additions:  Kris Humphries , Gerald Wallace , MarShon Brooks , Keith Bogans , Kelly Olynyk , Vitor Faverani , Phil Pressey
Key Subtractions:  Kevin Garnett , Paul Pierce , Jason Terry , Fab Melo , Kris Joseph, D.J. White, Chris Wilcox
Position battle 1: Phil Pressey vs. Avery Bradley
It's safe to say Rajon Rondo is not going to be back for the season opener so now we have to look at which player will win the starting point guard position. Avery Bradley has struggled immensely trying to bring the ball up and get the offense going and Phil Pressey will get a chance to show he can do just that. My bet is they end up starting in the same backcourt.
Position battle 2: Kelly Olynyk vs. Jared Sullinger
Between Olynyk and Sullinger, the Celtics have two young power forwards with some very tangible strengths and some very glaring weaknesses. Can Olynyk's scoring ability gain him the minutes advantage over the rebounding of Sullinger? 
Position battle 3: MarShon Brooks vs. Jordan Crawford
It takes a sick, sick mind to be excited about this training camp battle that probably won't end up mattering in their rotation but I just want to see these guys go one-on-one for an hour after practice.
What to expect from this team... 
A lot of health updates. Jared Sullinger is returning from a troublesome back that ended his rookie season. Some people are still worried about Avery Bradley having long-term shoulder problems. Rajon Rondo is trying to work his way back so he can lead this team by himself. Other than that, we'll see a lot of talk about getting familiar with Brad Stevens' coaching system and style. 
Brooklyn Nets
Key Additions: Kevin Garnett, Paul Pierce, Andrei Kirilenko , Jason Terry, Shaun Livingston,  Alan Anderson , Mason Plumlee
Key Subtractions: Kris Humphries, Gerald Wallace, MarShon Brooks, Keith Bogans, C.J. Watson, Jerry Stackhouse
Position battle 1: Andrei Kirilenko vs. Paul Pierce
Who should be the starting small forward for the Nets? Do you need more of a defensive presence on the wing to go along with Joe Johnson 's solid perimeter defense with Kirilenko or do you hope that Paul Pierce still has some offensive punch?
Position battle 2: Andray Blatche vs. Reggie Evans
You can see both of these guys playing alongside Kevin Garnett at various times throughout the season, as well as Brook Lopez . But with the ability to go with smaller forwards at the 4, will these guys essentially be battling for the third big in the rotation?
Position battle 3: Tyshawn Taylor vs. Shaun Livingston
Shaun Livingston should win the backup point guard position pretty easily, but you also have to wonder if he'll be effective enough to keep the Nets from giving Taylor a little run throughout the season to see how he's progressing.
What to expect from this team... 
At this point, I'm not sure you can expect anything but trash talking with the New York Knicks . They've been going at it all summer long since they made the trade for Kevin Garnett and Paul Pierce and seem intent on throwing barbs at J.R. Smith , Raymond Felton , and the rest of the Knicks throughout the offseason and possibly preseason. The goal is to run New York first and foremost. 
New York Knicks
Key Additions:  Andrea Bargnani , Metta World Peace , Beno Udrih, Tim Hardaway, Jr., Cole Aldrich , Chris Smith , Toure' Murry
Key Subtractions: Jason Kidd, Chris Copeland, Rasheed Wallace, Marcus Camby , James White , Steve Novak , Quentin Richardson
Position battle 1: Andrea Bargnani vs. Amar'e Stoudemire
There just aren't a lot of minutes to go around with a team that seems to have its most success with Carmelo Anthony playing the 4. Can you get away with either of these players playing center and still put forth a respectable defense? Do you just go big and play them at the 4? 
Position battle 2: Beno Udrih vs. Pablo Prigioni
Pablo Prigioni is a good facilitator and a fan favorite amongst a lot of Knicks fans, but Beno Udrih is the better player and a capable shooter. Do the Knicks need a steady shooting hand at the backup point guard position or do they need someone who will just move the ball and not be a big threat to shoot?
Position battle 3: Kenyon Martin vs. Metta World Peace
I don't even know if I'm talking about basketball. This could just be fighting against each other, battling for attention in the locker room, or anything your mind can come up with. This is just a weird combination to have on any team.
What to expect from this team... 
At this point, I'm not sure you can expect anything but trash talking with the Brooklyn Nets. They've been going at it all summer long since the Nets made the trade for Kevin Garnett and Paul Pierce. The Knicks seem intent at throwing barbs from J.R. Smith and Raymond Felton toward Paul Pierce, Jason Terry and the rest of the Nets throughout the offseason and possibly preseason. The goal is to run New York first and foremost. 

Philadelphia 76ers
Key Additions: Michael Carter-Williams, Tony Wroten , Nerlens Noel, Royce White , Pierre Jackson, Furkan Aldemir, Arsalan Kazemi
Key Subtractions: Andrew Bynum, Jrue Holiday , Nick Young , Dorrell Wright, Royal Ivey ,  Damien Wilkins
Position battle 1: Michael Carter-Williams vs. Tony Wroten
I'm not talking about the battle for being the starting point guard for this Sixers team. I'm talking about the potential shooting contest we might see with these two. A game of H-O-R-S-E could last for days.
Position battle 2: Arnett Moultrie vs. Kwame Brown
Kwame Brown is a decent enough defender, but there isn't a good reason to play him over Arnett Moultrie when you have season goals like the Sixers do. You should play Moultrie and try to lose as many games as possible. Actually, since that's the goal, maybe they should run the offense through Kwame Brown.
(UPDATE: Moultrie had surgery that should keep him out for the first half of the season but joking about Kwame Brown will not be edited out.)
Position battle 3: Brett Brown vs. the team's goals
It's not going to be easy for Brett Brown to start implementing the culture he wants to coach in Philadelphia while they're putting out a roster that's hardly fit to compete. Brown can't actively try to lose games because no coach is built that way. But he also can't do much coaching if the team can't compete on a nightly basis. It's going to be a tricky balance from him.
What to expect from this team... 
Losses. Lots and lots of losses. And a sad Thaddeus Young . Also, Evan Turner is going to shoot a lot if they don't run the offense through Kwame Brown.
Toronto Raptors
Key Additions: Tyler Hansbrough, Steve Novak, Dwight Buycks , D.J. Augustin, Austin Daye
Key Subtractions: Andrea Bargnani, Linas Kleiza, John Lucas III, Alan Anderson, Mickael Pietrus, Sebastian Telfair
Position battle 1: D.J. Augustin vs. Dwight Buycks
Dwight Buycks was one of the players in summer league that got a lot of buzz for his play in Orlando and Las Vegas. D.J. Augustin has been atrocious at shooting the ball the last three seasons but he's a veteran with a decent feel for the game. One of these guys will earn the backup point guard position.
Position battle 2: Terrence Ross vs. Steve Novak
These two players aren't really going up against each other, per se, but the way they can play around with the lineups could leave them competing for minutes in a weird way. The Raptors need Ross to be a good scorer off the bench but if he's not able to stretch the floor, his minutes could dwindle. Novak has to be one of the best 3-point shooters in the league again.
Position battle 3: Austin Daye vs. Landry Fields
I'm not even sure which player Raptors fans should want to win this battle. I've been looking at the names for 20 minutes and can't think of one reason you'd want one to win over the other. 
What to expect from this team... 
This is a new era with a full training camp for Rudy Gay and Jonas Valanciunas with a season under his belt. Without Andrea Bargnani on the roster, there really shouldn't be any scapegoats for the Raptors and they can just concentrate on trying to make a playoff push. We should expect to see a fiery bunch embracing the defensive elements that made Dwane Casey such a hot coaching name when he was an assistant for the 2011 champion Dallas Mavericks.
Markieff Morris was already in line to miss the start of camp due to a pending assault cas...

The 76ers should hopefully get a lot of play out of their young guys this season

Okafor's been on and off the trade block for over a year and doesn't seem to be in Philly's...
Fisher is the fourth NBA player to compete for the Mirror Ball trophy on the show

Barkley commends the NBA, sarcastically, for extending the season and reducing back-to-back...

Enes Kanter isn't seeing much comedy in the Kevin Durant social media situation