2013 NFL season preview: Carolina Panthers
Cam Newton has improved and the Panthers should be fun to watch, but without better pass defense, it'll be a tough season. Here's a look at the 2013 Panthers.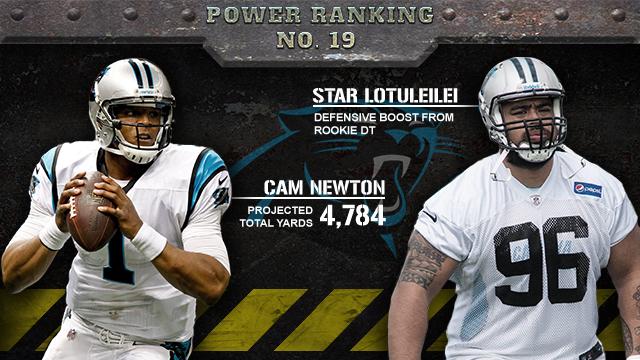 The Panthers went 6-1 down the stretch in 2012, which could be a sign of things to come this season. Part of that happened after they simplified the offense and allowed Cam Newton to be more of a pocket passer, which he will be in 2013.
Newton looked comfortable during the preseason with the new style of play. That will help improve his passing numbers.
The Panthers have some issues on both sides of the ball, but have a strong player at quarterback and good pass rushers. That matters.
If the Panthers don't win more than eight games, there is a good chance coach Ron Rivera could be looking for a job.
Offense:
From a statistics standpoint, Newton had the most successful first two seasons of any quarterback in league history. But it didn't translate into wins and losses. That's why he has slipped some out of the national spotlight.
Panthers' Rivals: NFC South


2013 Preview • Schedule
Falcons @ Panthers: 11/3 (1 p.m. ET)
Panthers @ Falcons: 12/29 (1 p.m. ET)


2013 Preview • Schedule
Saints @ Panthers: 12/22 (1 p.m. ET)
Panthers @ Saints: 12/8 (1 p.m. ET)


2013 Preview • Schedule
Bucs @ Panthers: 12/1(1 p.m. ET)
Panthers @ Bucs: 10/24 (8:25 p.m. ET)
That's a mistake.
Newton was good in those final seven games, and appeared even better when I saw him in camp. The move to a more conventional offense will help him. He will run, but it will more off of scrambles instead of design runs.
DeAngelo Williams will be the feature back, but the team hopes to get Jonathan Stewart cranked up behind him for a 1-2 punch.
Steve Smith remains the top receiver outside -- and he can still go get it - but the Panthers need more from the other side. Tight end Greg Olsen is a big part of the offense, and he should be.
The line is solid if Garry Williams and Bryon Bell, two big men, can show improvement on the right side. Bell has talent and has shown a feisty style in camp.
It's all about Newton. He grows, and they improve. He doesn't, and there will be major questions.
Defense:
Great pass rushes can sometimes cover up a less-than-stellar secondary. The Panthers hope that's true.
In ends Charles Johnson and Greg Hardy, the Panthers have a heck of a 1-2 punch as they combined for 23 1/2 sacks in 2012. Hardy has dropped 25 pounds in an effort to be even faster. The addition of Star Lotulelei inside will also help.
The quarterback of the defense is middle linebacker Luke Kuechly. He is a tackling machine, leading the NFL last season. He might be on his way to the Pro Bowl this season. There are, however, questions next to him. Veterans Jon Beason and Thomas Davis have had their share of injuries.
The secondary is a major concern. There are a lot of new faces. The Panthers think second-year corner Josh Norman could be a top-level corner. The addition of safety Mike Mitchell will upgrade the back end.
Final thoughts:
They will be fun to watch. Newton will have a big year and help the Panthers put up a lot of points. But they also might be in a lot of shootouts.
Even with that top pass rush they have too many questions in the back end. Unless they tighten up back there, look for the defense to give up a lot of points. In their division, where three quality passers play on the other teams, it's tough to imagine that unit being much improved. If they get to 8-8, it will be a good season.
More 2013 NFL season previews: Select a team
AFC North
AFC South
AFC East
AFC West
NFC North
NFC South
NFC East
NFC West
The President has spent much of the last month obsessed with the league

CBS All Access allows viewers to stream every NFL on CBS game in their local market

The two legal sides could consider finding a settlement to end the back and forth in court
CBS All Access allows viewers to stream every NFL on CBS game in their local market

CBS All Access allows viewers to stream every NFL on CBS game in their local market

CBS All Access allows viewers to stream every NFL on CBS game in their local market