Pain points: From ice to OxyContin, CFB healing process runs gamut
College football players take painkillers, rehab vigorously and hop in and out of cold tubs to rebuild their bodies after various injuries.
• 6 min read
Though the NCAA is in the process of settling a concussion lawsuit this week, it is well known that head injuries tell only part of the story when it comes to college football players managing pain.
Players take painkillers, rehab vigorously and hop in and out of cold tubs to rebuild their bodies after various injuries. When the pain subsides -- or even when it lingers, in some cases -- it's time to hit the field and chase the next dream.
Interviews with more than 15 prominent players from power conferences show a variety of methods teams and athletes use to combat major or minor ailments.
What are Toradol and Mobic?
Toradol and Mobic are brand names of nonsteroidal anti-inflammatory drugs (NSAID). They work by reducing hormones that cause inflammation and pain in the body. Both are used short-term (5 days or less) to treat moderate to severe pain, usually after surgery. They may cause life-threatening heart or circulation problems such as heart attack or stroke, especially if taken long term. Source: Drugs.com
Answers range from the basics -- ibuprofen and physical therapy -- to acupuncture and painkillers such as Mobic or Toradol. One prominent Big Ten lineman said he was prescribed OxyContin after surgery to repair a broken leg. None of these substances are listed under the NCAA's 'banned drugs.'
Lineman Armond Armstead's 2012 lawsuit against USC highlighted the use of Toradol and called into question whether schools administer it properly. Armstead's suit claimed the 'mandatory' use of Toradol while a member of the Trojans program triggered a 2010 heart attack. At least two major programs have scaled back use of the drug.
At least two SEC schools use Mobic as a painkiller, according to players, while Duke linebacker Kelby Brown said the Blue Devils use Toradol.
Players say their teams are under proper medical supervision with injury rehab.
"If the pain scale is too high, they won't let you (play)," said Tennessee offensive lineman Mack Crowder about the Vols' training staff.
Trainers, who reportedly have butted heads with head coaches over concussion treatment, should always have final say unless the player expresses discomfort, Wake Forest coach Dave Clawson said.
"That's a line I don't want to cross," he said.
Even if schools are responsible and transparent in their rehab regulations, that doesn't make players' pain any more bearable.
Here are anecdotes from 10 SEC or ACC or Big Ten players about dealing with pain and how schools treat injury. Some players were more forthcoming than others. Many didn't remember the brand of painkiller they took.
Dak Prescott
School: Mississippi State
Position: QB
Measurables: 6-2, 229
Medical history: Traumatic nerve damage to shoulder late last season, "same injury Colt McCoy had," Prescott said. Missed two games. Also suffered turf toe and MCL injuries in past.
Dealing with pain: "Worst thing about [the shoulder injury] is there's nothing you can do to heal it. You could wake up (at night) and not feel your arm. Didn't have feeling in it the whole Alabama week [an MSU loss in which Prescott did not play]... I couldn't even pick my arm up."
Medication/rehab: "Doctors gave me an anti-inflammatory. I underwent deep tissue massages and acupuncture. It was a dry needling, kind of all in my shoulder and my back area of my scapula. They hooked needles to a stem and shot electricity to it at a physical therapy place in Starkville. It was more natural than taking pills and it really helped."
"They gave me (a pill) at first and I couldn't sleep. Then they gave me a muscle relaxer. I honestly try not to take those pills and man up, but I couldn't even sleep."
Todd Gurley

School: Georgia
Position: RB
Measurables: 6-1, 232
Medical history: Missed three games and played hurt in others because of an ankle injury.
Dealing with the pain: "Just try to do rehab and go out there and play, really. Got to fight through it. Probably walking around campus and stuff like that, it got pretty bad. It was painful."
Medication: "I took anti-inflammatory stuff. I have no idea (of the name)."
Curt Maggitt

School: Tennessee
Position: DL
Measurables: 6-3, 244
Medical history: Four surgeries -- shoulder (twice), knee and toe.
Dealing with the pain: "The big toe was a lot more painful than people think. After the surgery, that one hurt pretty badly. My whole foot was throbbing. I couldn't sleep at night."
Medication/rehab: "I took Mobic, an anti-inflammatory. If the doc doesn't give it to me, I don't take it. You can harm yourself if you get addicted to something like that. In our training room, we have a thing called preventative maintenance. You can do exercises from keeping the pain from coming back."
Braxton Miller

School: Ohio State
Position: QB
Measurables: 6-2, 221
Medical history: MCL injury, shoulder surgery.
Dealing with the pain: "After the shoulder surgery I was sleeping on my left side. Very uncomfortable. Once I took that sling off I was finally able to rehab, massages, ice, the routine."
Medication/rehab: "Painkillers (Didn't remember brand), and swelling medication."
Jeff Heuerman

School: Ohio State
Position: TE
Measurables: 6-5, 255
Medical history: Offseason foot injury.
Dealing with the pain: "If you have a broken finger or jammed finger, trying to block and catch -- especially in the cold -- that's a bad deal. It's not a terrible injury because you can fight through it but it's one of those nagging things. They are painful but you really can't do anything on it."
Medication/rehab: "You just have to go back out there and be mentally tough. Take some ibuprofen and go play.
Kelby Brown

School: Duke
Position: LB
Measurables: 6-2, 220
Injury history: ACL tear in 2012.
Dealing with pain: "I don't think pain is as bad as it was (decades ago). You look at the players in the 1930s and they have crooked fingers. We have helmets and pads. It's fine."
Medication/rehab: "We take ibuprofen and we take Toradol. It's a liquid anti-inflammatory. It helps us when we get injured during a game and it helps getting a better response."
*Duke 'respectfully' declined comment upon request for more clarity on the program's Toradol use, citing Health Insurance Portability and Accountability Act and confidentiality.
C.J. Johnson

School: Ole Miss
Position: DE
Measurables: 6-2, 225
Medical history: Broken fibula in March 2013, shoulder injury in October.
Dealing with pain: "Ice and rest."
Medication/rehab: "We tried just about everything." (Did not remember names of medicines/painkillers he took)
Devin Gardner

School: Michigan
Position: QB
Measurables: 6-3, 220
Medical history: Turf toe, shoulder injury.
Dealing with the pain: "I was in a little bit of pain. Just coming to practice the next week it was pretty sore."
Medication/rehab: "A lot of cold tub. I'm not a big-time medicine guy. I think that's why (the pain is) so bad sometimes. I'm not a guy who wants to take medicine -- heal naturally, try to take cherry juice, I guess ibuprofen."
Norkeithus Otis

School: North Carolina
Position: Bandit (pass rusher)
Measurables: 6-1, 235
Injury: Calf contusion during N.C. State game last year.
Dealing with the pain: "Ice, foam rolls, anything you can do to get better. It kind of sucked. Had to elevate it a lot, lots of rubs to get the swelling down."
Medication/rehab: Advil.
Brandon Scherff

School: Iowa
Position: LT
Measurables: 6-5, 320
Injury: Broken fibula in October 2012.
Dealing with pain: "(Down on the field) I saw the leg about 90 degrees to the right. I said, 'I don't want to see it anymore.'"
Medication/rehab: OxyContin (hospital-prescribed) to deal with post-surgical pain. "I've never really had to take painkillers before the leg injury."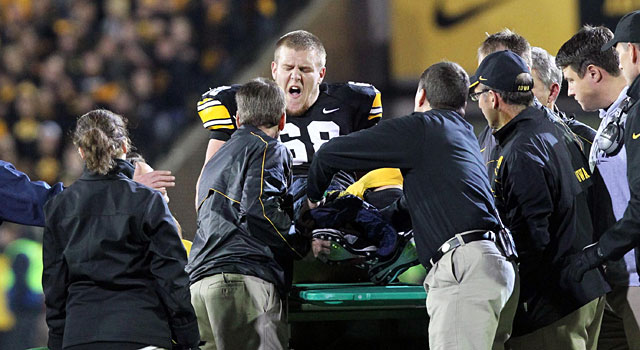 Everything you need to know to watch and pick the Las Vegas Bowl on Saturday

Everything you need to know to watch and pick the Camellia Bowl on Dec. 16

Everything you need to know to watch and pick the New Mexico Bowl on Dec. 16
Everything you need to know to watch and pick the Cure Bowl on Saturday

Everything you need to know to watch and pick the New Orleans Bowl on Dec. 16

Bowl games are unpredictable, which means teams need to be on upset alert