Pac-12: Team-by-team preview
In his Pac-12 preview, Jerry Hinnen says while Oregon is the favorite over Stanford in the North, the battle in the South will be between three teams.

1. Oregon Ducks : Make no mistake: Oregon might have lost the 2012 Pac-12 title to Stanford Cardinal , but they were still the league's best team. The Ducks outgained conference opponents by 145 yards a game (to the Cardinal's 79) and outscored them by 29 points a game (to the Cardinal's 12). It's David Shaw's team with the rings, and deservedly so, but replay the 2012 season 100 times and the Ducks walk away with the crown in, what, 80 or 90 or those seasons? This is relevant because in many ways, 2013 will be a replay of last year, with Marcus Mariota , De'Anthony Thomas , the best secondary in the Pac-12, and the usual assortment of pile-driving linemen and ball-hawking defenders all returning. Stanford has plenty back, too, but as long as Mark Helfrich merely avoids a full-on John L. Smith impersonation -- and there's no sign he will -- the Ducks should finish the job this year.
Pac-12 All-Conference
Pos
Player
Yr
School
QB
Marcus Mariota
Soph.
Oregon
RB

Ka'Deem Carey

Jr.

Arizona Wildcats

RB
De'Anthony Thomas
Jr.
Oregon
WR

Marqise Lee

Jr.
USC
WR

Kasen Williams

Jr.

Washington Huskies

TE

Austin Seferian-Jenkins

Jr.
Washington
OT

Tyler Johnstone

Soph.
Oregon
OT

Cameron Fleming

Sr.
Stanford
OG

David Yankey

Sr.
Stanford
OG

John Martinez

Sr.
USC
C

Hroniss Grasu

Jr.
Oregon
DE

Morgan Breslin

Sr.
USC
DE

Scott Crichton

Jr.

Oregon State Beavers

DT

Will Sutton

Jr.

Arizona State Sun Devils

DT

Deandre Coleman

Sr.

California Golden Bears

LB

Shayne Skov

Sr.
Stanford
LB

Shaq Green-Thompson

Soph.
Washington
LB

Anthony Barr

Sr.

UCLA Bruins

CB

Ifo Ekpre-Olomu

Jr.
Oregon
CB

Terrance Mitchell

Jr.
Oregon
S

Ed Reynolds

Sr.
Stanford
S

Dion Bailey

Jr.
USC
K

Trevor Romaine

Jr.
Oregon State
P

Darragh O'Neill

Jr.

Colorado Buffaloes

KR
Marqise Lee
Jr.
USC
PR
De'Anthony Thomas
Jr.
Oregon

2. Stanford: Let us count the reasons why the Cardinal could make all of the above seem plain silly come Nov. 7, when they host the Ducks on a Thursday night prime-time special that shapes up as one of the national games of the year: 1. the best defense in the Pac-12, led by All-American candidate linebacker Shayne Skov and a fearsome defensive line; 2. arguably the best offensive line in the country; 3. a settled quarterback situation behind Kevin Hogan , who only went 5-0 as a starter with four wins over top-20 teams; 4. that Shaw guy, who still seemingly has yet to push a wrong button in Palo Alto. If Shaw can find able replacements at the offensive skill positions, a third straight 10-win season seems all but a lock.

3. Washington: The Huskies' Pac-12 road slate -- at Stanford, Arizona State, UCLA, and Oregon State -- should keep them from challenging the Ducks and Cardinal atop the division. But that might be all that does; with Keith Price under center, Bishop Sankey at tailback, and Austin Seferian-Jenkins and Kasen Williams in the receiving corps, Steve Sarkisian has as many proven offensive weapons to play with as any coach in the league whose name doesn't rhyme with Schmark Schmelfrich. With Justin Wilcox overseeing a dramatic improvement on the defensive side (and eight starters returning, including star-in-the-making linebacker Shaq Wilson), Sarkisian should enjoy his best season in Seattle yet.

4. Oregon State: The Beavers just don't have the top-to-bottom talent of the three teams listed above them here, but when has that ever been a problem for Mike Riley? A year after going a resurgent 9-3, Riley has 15 starters returning, a friendly schedule with Colorado as a cross-division opponent and both Stanford and Washington at home, and an outstanding offensive line led by freshman All-American center Isaac Seumalo . If whoever wins the quarterback job -- be it Sean Mannion or Cody Vaz -- can give the Beavers a shade more consistency under center, it's not out of the question that the season finale at the Ducks could have the division title riding on the outcome.

5. California: As the next team on this list shows, the Pac-12's high-flying reputation doesn't necessarily guarantee that importing the Air Raid will pay immediate dividends. Sonny Dykes also doesn't have a track record as an overnight miracle-worker; his first team at Louisiana Tech actually finished two games worse than its predecessor. But this roster has too much talent to win just three games again under anyone competent -- tailback Brendan Bigelow is due for a breakout after averaging 9.8 yards a carry in limited attempts, the front seven is loaded with blue-chip recruits (including Penn State transfer linebacker Khairi Fortt , now healthy again), and Zach Kline seems tailor-made for Dykes's offense. And oh yeah: in the race to stay out of the division cellar, Wazzu comes to Berkeley.

6. Washington State Cougars : Technically speaking, yes, Mike Leach's first season in Pullman could have gone worse; the Cougars could have not rallied for their incredible overtime victory in the Apple Cup, and finished 2-10 (and 0-9 in the Pac-12) instead of 3-9, 1-8. But that Leach came that close to a winless league record after never missing a bowl at Texas Tech speaks to the deep disappointment of the 2012 season, and how far the Cougs have to go in 2013 and beyond. Connor Hall iday should give Leach much-improved play under center, the offensive line returns four starters, and there's no shortage of overall experience. But to genuinely improve, Leach will have push the defense forward and find some semblance of a running game ... and those aren't exactly Leach's specialties. Unless Halliday and the receiving corps make a major breakthrough, an unforgiving schedule could leave Wazzu in the basement again.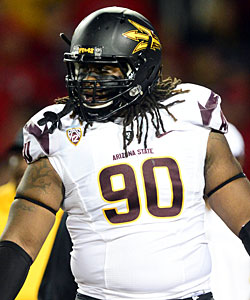 1. Arizona State: "Snickering" and "chuckles," by definition, aren't supposed to be deafening. But it was hard to hear anything else when the Sun Devils announced in 2012 they'd hired Todd Graham to replace Dennis Erickson. Well, now look who might have the last laugh: after a winning Pac-12 record and bowl demolition of Navy, the Sun Devils were a whisker away from being named the media's South division favorites. Given ASU's wealth of proven or potential stars -- Taylor Kelly at quarterback, Jamil Douglas at right tackle, Will Sutton at defensive tackle, Alden Darby at safety -- that makes sense, and it makes even more considering the Sun Devils play just four Pac-12 road games ... and that two of those are at Wazzu and Utah Utes . A trip to the conference championship game is there for the taking.

2. UCLA: The team the Pac-12 media did pick to win the South has plenty going for it, starting with a legitimate Heisman dark horse in dual-threat quarterback Brett Hundley and continuing with a veteran front seven, an experienced and physical (if sack-prone) offensive line and all the momentum earned in Jim Mora's impressive debut season. But even those positives may not make up for a completely overhauled secondary or the Pac-12's toughest schedule. The Bruins didn't just draw Stanford, Oregon and Washington out of the North, they'll play the Ducks and Cardinal on the road. (Oh, and Arizona in Tucson, and USC in the Coliseum.) It won't be a surprise if the Bruins are the best team in the division ... and, thanks to that schedule, still don't win it.

3. USC: Is it possible for a program as high-glam as the Trojans to somehow wind up underrated? That might be the case after their stunning 2012 pratfall from preseason No. 1 to 7-6 Sun Belt losers, a historically disastrous campaign that's left Lane Kiffin facing pink-slip rumors and USC a lowly 24th in the preseason top 25. But despite the NCAA's sanctions sapping the roster's depth, this remains the most talented starting lineup in the division (and arguably the league); WR Marqise Lee, TE Xavier Grimble , DE Leonard Williams and SS Dion Bailey would all start for any team in the country. If Max Wittek can hold his own under center -- and Kiffin can keep his team focused week-to-week -- a friendly, Oregon-free schedule could send the Trojans to their first Pac-12 title game.

4. Arizona: Say this much for him: life with Rich Rodriguez around is never dull. The Wildcats were as up-and-down as any team in the nation in 2012, throttling the likes of Oklahoma State and Washington one week, losing 49-0 to Oregon or 66-10 to UCLA the next. With their top 15 tacklers back on defense, Ka'Deem Carey ready to repeat as the nation's leading rusher, and a second year of experience in RichRod's (and defensive coordinator Jeff Casteel's) unorthodox systems, the Wildcats could once again beat anyone on their schedule. But if whoever replaces Matt Scott at quarterback can't find his footing, they could once again lose to nearly anybody on that schedule, too.

5. Utah: The leap to the Pac-12 has not been kind to the Utes thus far, with a 4-5 league mark in 2011 giving way to a 3-6 disappointment in 2012 -- and that was with home dates vs. Cal and Washington State. This year Oregon and Stanford are on the docket, the Wazzu game is in Pullman, and only the season finale at home to Colorado looms as anything like an easy win. There's hope anyway, mostly because Kyle Whittingham didn't start taking stupid pills, but also because Travis Wilson should be the most productive Utes QB since 2010, because five starters including defensive end Trevor Reilly return in the front seven, because Dennis Erickson is on hand to provide some new offensive wrinkles. Still, against this schedule, the Utes had best make hay in their nonconference schedule if they want to return to the postseason.

6. Colorado: Hey, if Mike MacIntyre can turn San Jose Bleeping State into a 10-win, top-25 team, reviving Colorado should be a snap. Or at least, a snap over the course of, say, three seasons. This year, we're talking about the same program that went a miserable 1-11 in 2012 -- the only win a one-point miracle comeback at three-win Washington State -- and lost by 25 or more points eight times. If quarterback Connor Wood can stay upright and complete a few passes, there's enough experience elsewhere on the roster (especially at wideout, where Paul Richardson returns from an ACL injury as the team's most talented athlete) to make some real headway. If not, well, MacIntyre went 1-12 his first season at SJSU, too.
The SEC released its 2018 schedule in full Tuesday afternoon, and it's dripping with intri...

The 2021 Chick-fil-A Kickoff Game will feature Louisville and Ole Miss

The Fornelli 50 ranks teams based on nothing but their performance in 2017
Penn State better have its eyes wide open with a trip to Iowa City on deck this weekend

Ohio safety Javon Hagan has a rather unique personal tradition during games

Mississippi State has been good to Mullen, but he should be the next Bulldog to upgrade